You are here: Our Waiting Adoptive Families > Meet Amanda & Casey W.
Meet Amanda & Casey W.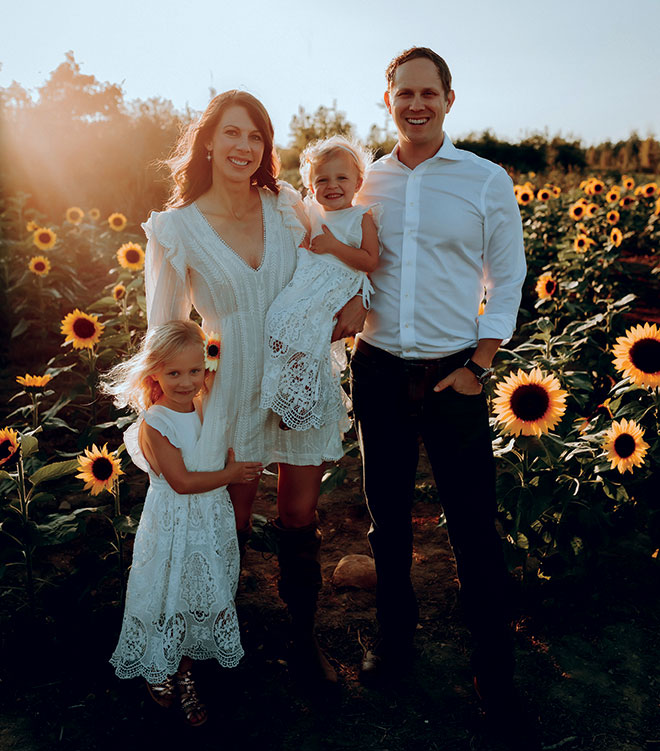 Dear Birthparents,
We can't imagine what your journey looks like or feels like, but we are honored that you are taking the time to get to know our family. We hope we can provide comfort and peace to you as we walk through this journey together and build a connection that will last a lifetime.
We are Amanda and Casey. We met in the cadet gym of the United States Air Force Academy in Colorado 16 years ago. It wasn't long after we started dating that we knew we would spend our lives together.
After marrying, the Air Force brought us to Dayton, Ohio, where we served our time as commissioned Air Force officers and where we stayed and officially became Ohioans — and Buckeyes! We love Ohio and can't imagine leaving it — well, except to go on one of our many adventures to visit family and friends or to dip our toes in the ocean.
Work did eventually take us to Akron, Ohio, where we started our family, welcoming Nora Maisie in 2014 and Emilia Reese in 2017. Life has changed a lot since we first met 16 years ago. There is so much to love about our live now with kids and school and work and playdates and dogs and a house that is occasionally bursting at the seams with friends and kids over for Sunday brunch. Every day is an adventure.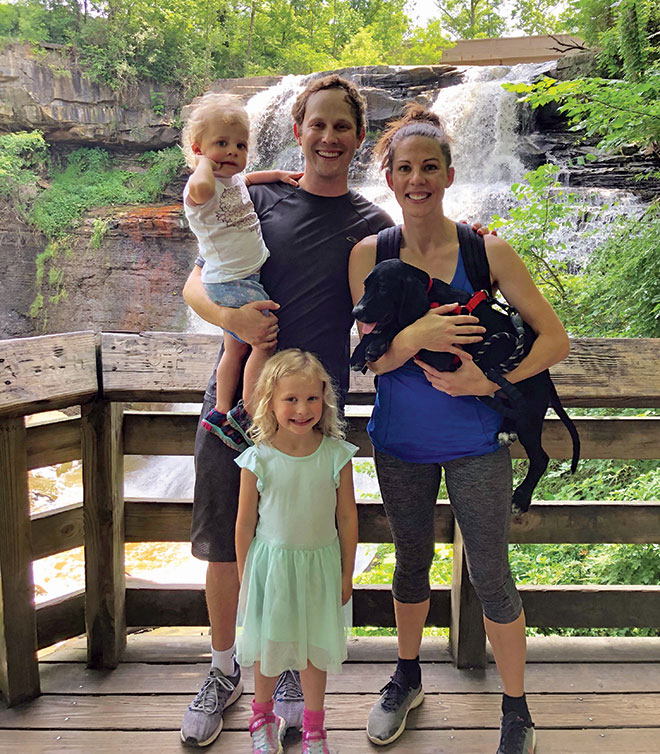 Enjoying a hike with our 9-month-old pointer/black lab mix Xander, a sweet-tempered boy who has become an important part of the family.
Meet Casey. Casey grew up in a military family, becoming accustomed to moving and quickly learning how to amass new friends. Casey maintains these friendships and a strong connection with his entire family. After graduating from the Air Force Academy with a degree in management, he became a Communications Officer in the Air Force and earned his MBA from The Ohio State University. Casey is a diehard Buckeyes fan — and his competitive nature takes over whether he is watching a game, swimming laps in the pool, or is winning new business for his company. Casey's heart for service eventually led him to run for — and win — a seat as a State Representative for Ohio.
Meet Amanda. Amanda was born in the southern California sunshine, spending her most memorable days wading through tide pools with her family or hiking in the hot desert sun. After graduating from the Air Force Academy in Colorado with a degree in math, she became a Scientific Analyst in the Air Force and eventually went on to earn a PhD from The Ohio State University in Agricultural, Environmental, and Development Economics. Amanda teaches economics at the University of Akron, giving her the flexibility to see daughter Nora off on the bus to kindergarten each morning and to be there when she gets home most afternoons. Her job offers her the most flexibility in the summer to spend time with Casey and the girls — going on adventures and visiting friends and family. Amanda still loves the great outdoors.
Meet Our Girls. Nora is pure sugar. She is kind and empathetic — a sweet little girl who desperately wants to please everyone and can be hard on herself when she disappoints. She adores her little sister, Emilia, and has relished in taking on her new responsibility as big sister. Emilia is pure sunshine. She already knows how to light up any room she walks into. She is funny and talkative like her sister. She is fiercely independent and wants to do everything herself, in her own way and in her own time.
A Bit More About Us
We are a work-hard play-hard kind of family. We pack a lot into every day to get the most out of every minute.
Of all the places we have been, there is no place quite like home. When the days get too busy for us, a weekend at home in Hudson, Ohio, sounds perfect!
Faith, Hope, and Love. In our separate faiths, Casey and Amanda have found common ground and a common purpose. We bring our children to holiday services at the local synagogue and at a Unitarian-Universalist church, exposing them to many faith traditions.
Adoption has been on our hearts for some time. It was a topic of conversation when we first started dating. We always envisioned that our family would grow someday through adoption. We are ready to open our hearts and our home to our newest precious member of the family and wrap them in the love of our family allowing them to grow into the person they are meant to be.
With deepest respect,
Amanda and Casey
Our Family at a Glance
We live in Hudson, Ohio. We work as an educator and a public servant. Our hobbies include hiking and traveling. We believe open adoption is in the best interest of everyone involved, particularly the child. We've been married since June 2005.
For more information about our family, please contact Adoption Link at 1-800-643-3356.