You are here:  Our Waiting Adoptive Families > Meet Chris H. & Bryn S.
Meet Chris H. & Bryn S.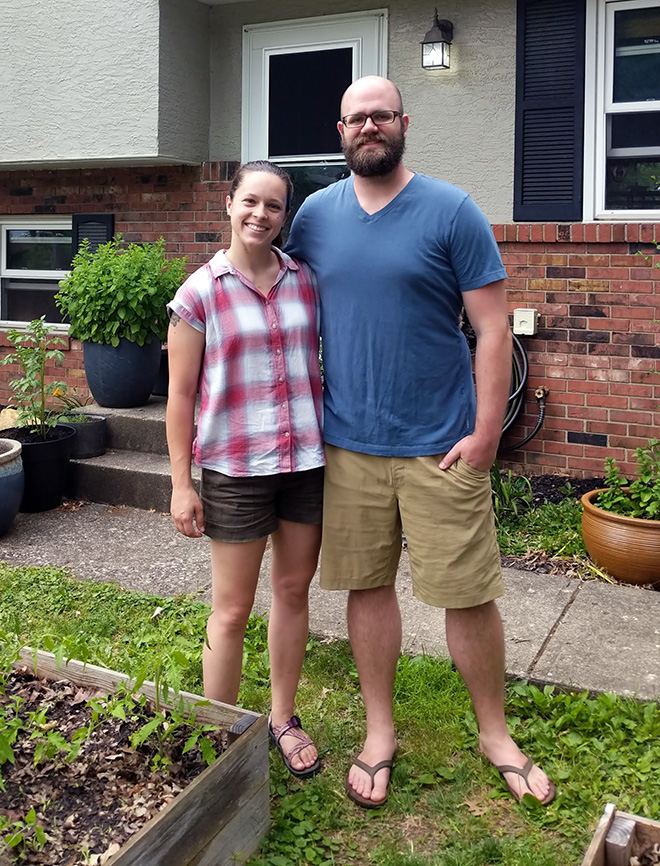 Dear birth parents,
We are Chris and Bryn, two fun-loving individuals who couldn't be happier building our nest together. Chris's quiet nature makes him an excellent listener and kind soul complementing Bryn's vivacious energy and enthusiasm for life. We are excited to become parents and show the world to our child. Both of our childhoods were filled with imaginary games, creative projects, freetime outside, getting messy in the dirt, learning, and spending time with family. We want the same for our child.
Family is the most important part of our lives and we both come from tight-knit families. This means that holidays include dozens or more family members getting together, ranging from ages 4 to 84! These traditions and family get-togethers are things we hope to continue as our family grows.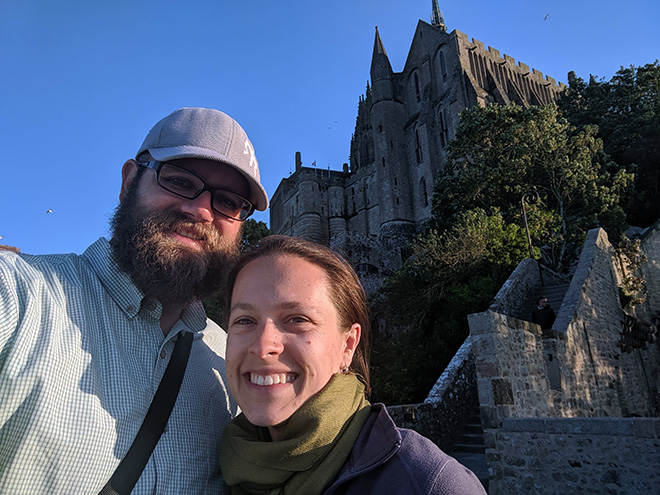 Our trip to France
For us, having our families involved in our child's life is key — our grandparents were very much a part of our lives and we want the same for our child. Bryn's mom is ready to jump in as a dedicated babysitter and dance partner, her dad is looking forward to being the goofy papa and adding more members to our musical jam sessions, and her sister is eager to introduce our child to her herd of cattle and serve as a loving aunt. Chris's mom is eager to continue the family tradition of handmade easter baskets and advent calendars, his dad is ready to roll on the floor for a game of peek-a-boo or take his grandchild to local sporting events, and his brother can't wait to be an uncle for the first time and add another member to his elaborate family vacations!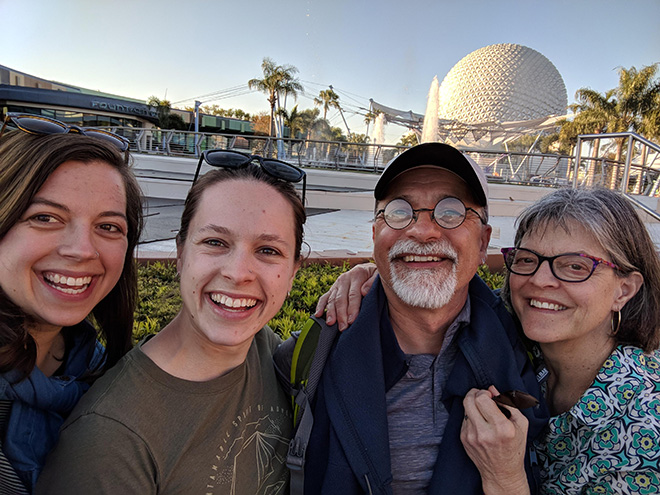 Bryn's family at Epcot Center
We are so grateful that our paths have crossed with yours. We don't know what it feels like to be in your shoes right now, but we know that it can't be easy. We hope that we can give you a good picture of our lives and the life we hope to give to our child so that this decision can be easier for you. Thank you for taking the time to consider us as adoptive parents.
About Us
We met online nearly 6 years ago, had our first date over peppermint tea, and have been discovering how much we have in common ever since: family-oriented, outdoor enthusiasts, DIYers, and dog lovers. Our dogs make sure we're always exploring a new creek or bike path and throwing a ball in the backyard! We love building a home together and often call ourselves suburban homesteaders. Whether it's pulling a radish from our front-yard garden beds or making a fresh batch of soap, we love using our hands.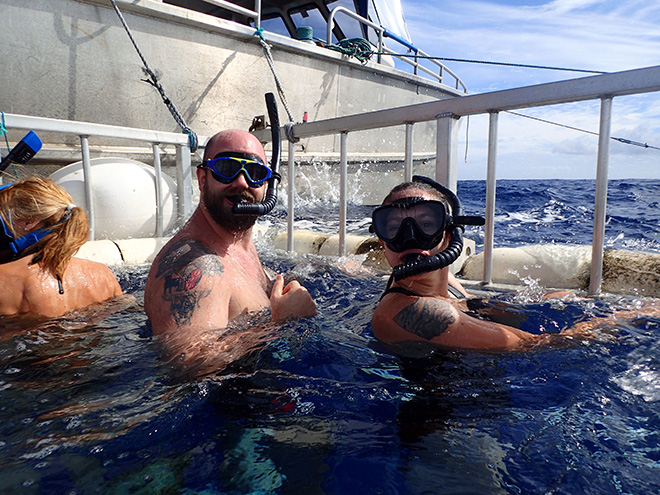 Swimming with sharks
About Chris
Chris grew up with one older brother in a small Ohio town on a dead end street and always had his grandparents around. Throughout school Chris excelled in academics and also on the football and track teams. After receiving his first bachelor's in Mathematics, he pursued a second degree in Civil Engineering and now works as an engineer at a small firm close to home. He enjoys spending time in our home pottery studio, crafting beautiful pieces for our friends and family.
Chris brings to our family a patient demeanor and calming force. He is our rock! He is also our chef — serving as the primary cook most nights of the week. On the weekends, he'll pour himself into board games with friends, reading books, exploring new restaurants, or taking a break in the hammock.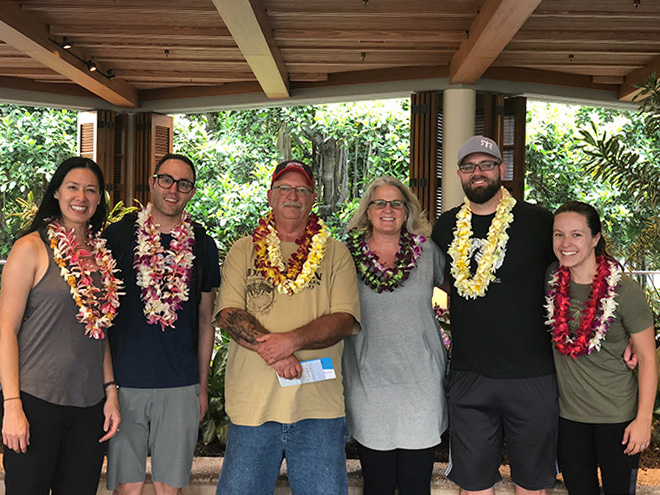 Chris's family in Hawaii
About Bryn
Bryn grew up with one younger sister in Columbus, OH, surrounded by the arts. With a jazz pianist father and choreographer mother, the house was never quiet. Throughout school Bryn thrived in theatre and music, always looking for the next opportunity to be creative. Upon receiving her bachelor's degree, she ran her own business before joining her current company, where she serves on the senior leadership team. Bryn also teaches yoga and maintains a strong community of women who meet regularly to support each other.
Bryn brings to our family excitement and joy for the little moments that make life so special. At night she'll turn on music and dance around the house or sit down and make music herself on our living room piano. She also enjoys Irish jam music, singing with her sister, reading non-fiction, or anything that keeps her busy — with Bryn there's no sitting around.
With love,
Bryn & Chris
Our Family at a Glance
We live in the Columbus, Ohio area.
We've been married since November 2018.
We work as a civil engineer and business director.
Our hobbies include hiking, gardening, playing music, and making pottery.
We believe we have a responsibility to the children who are coming into or already in this world and we want to give them the opportunity to thrive in a safe and healthy environment.
For more information about our family, please contact Adoption Link at 1-800-643-3356.