You are here: Our Waiting Adoptive Families > Meet Chris & Kate W.
Meet Chris & Kate W.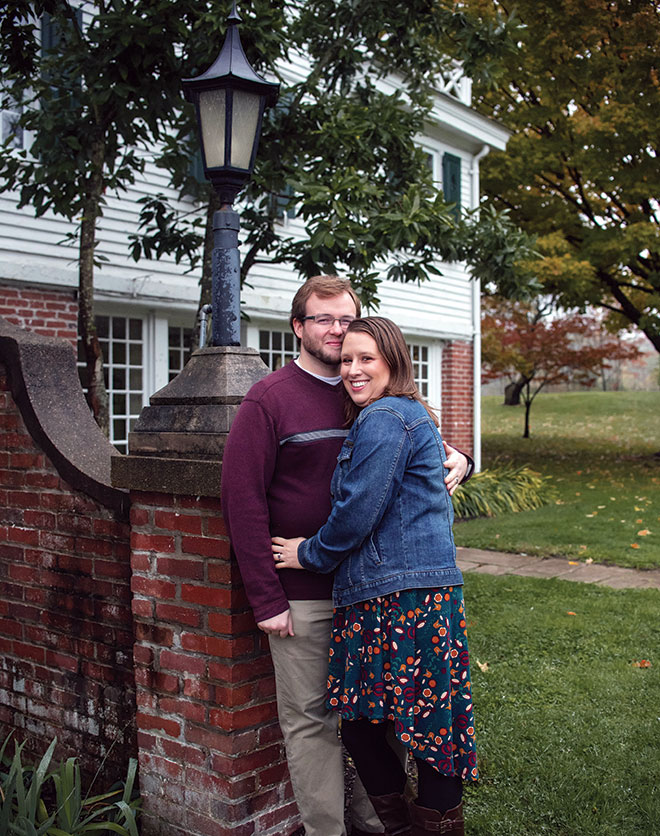 Dear Birthparents,
Hello!Thank you for taking the time to learn a bit about us and for considering us as adoptive parents for your child. We appreciate you and the decision you are making.
We are Kate and Chris. We met in 2011 while we both attended Penn State University. We married in October 2014 and moved to Ohio soon after. We enjoy life together along with our rescued Australian Shepherd, Xavier, who is now six years old.
We live in a peaceful suburb of Columbus, but regularly travel. From hiking in the mountains in Massachusetts to visiting Disney World in Orlando with Kate's family to traveling in North Carolina with Chris's family, we are often on the move. We can't wait to bring our son or daughter along with us. Both sets of parents are very active in our lives, and we see them as often as possible. We love our families, and everyone is very excited about welcoming a new member!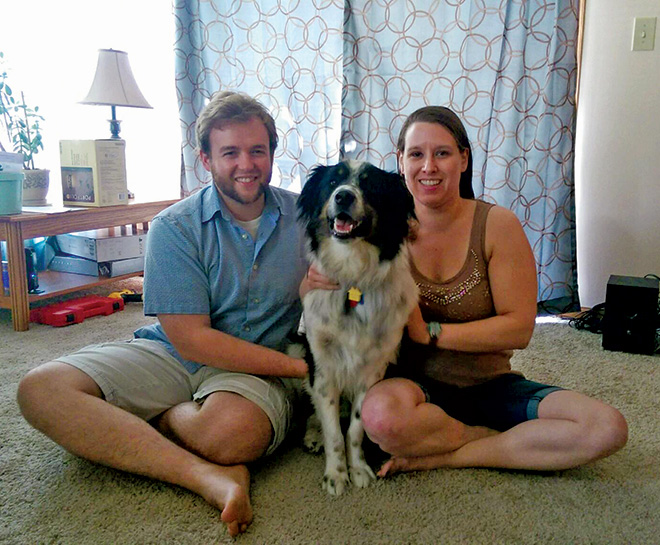 First day bringing Xavier home
About Kate. I earned my undergraduate degree in Zoo Science at a small college outside of Philadelphia, but eventually returned to school to get a second degree in Biochemistry and Molecular Biology after discovering just how much I loved doing research. I now work at Nationwide Children's Hospital as a research assistant where I study a disease that affects both children and adults worldwide and help to find new ways to treat it. In my leisure time I enjoy walking and playing with our dog. I like to read, watch TV, play video games, and color in adult coloring books. I love getting together with friends for game nights and a monthly girls' night.
About Chris. I earned my bachelor's degree in Mechanical Engineering in 2011, and then a Master's in 2013. After Kate and I married, I was offered a position at Honda Engineering of North America. It's a good, stable, challenging job that I enjoy, and we plan on staying in the Columbus area for a long time. I'm a big sports fan, especially when cheering for my hometown teams. Some of my other hobbies include reading, computers, board games, and painting. I'm known to be jokester and can find humor in most situations. I love our family and am so grateful for the time Kate and I have been able to share as husband and wife so far.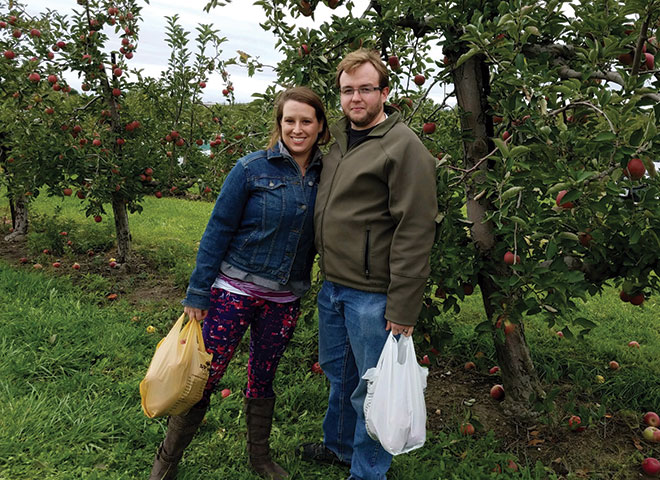 Apple picking
Our Home. We live in a three-bedroom ranch in a growing suburb on the western side of Columbus. Our neighbors range from very young couples and their kids to later middle aged empty-nesters. There are tons of young kids, and the elementary school is just around the corner. Several parks are within easy walking or driving range and include pools, hiking trails, athletic fields and even indoor sports facilities just a few minutes away. We love it here!
In closing… We've known since before we were married that someday we wanted to have children. Having spent countless hours laughing and playing with our nieces and nephews, we know we're ready for our own child. In choosing to adopt we see a chance to partner with you in providing as much love possible while your child grows and matures. We are excited for the countless memories ahead and the opportunity to share them with you. We look forward to the chance to meet you and get to know you better.
Chris & Kate
Our Family at a Glance
We live in the suburbs west of Columbus, Ohio. We work as a mechanical design engineer and laboratory research assistant. Our hobbies include reading, board games, movies, and outings with friends. We believe an open adoption is the best option for not only the child but also the birth and adoptive parents. We've been married since October 2014.
For more information about our family, please contact Adoption Link at 1-800-643-3356.