Meet Chris & Tram M.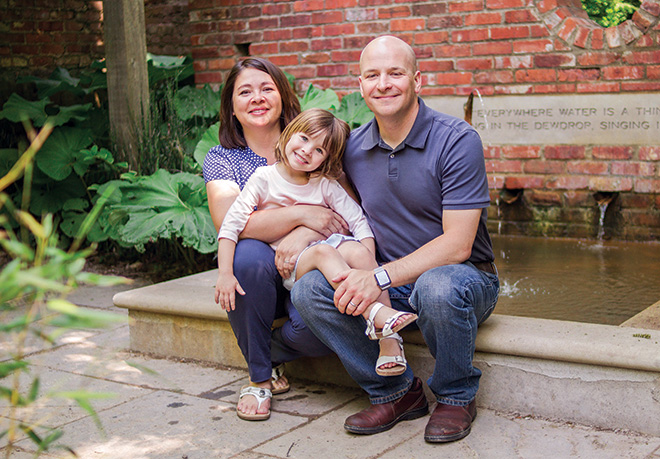 A big welcome and thank you, birthparents!
You've probably heard the phrase "it takes a village to raise a child". We'd like to thank you from the bottom of our hearts for considering us to be your village. We are all the same anxious parents at heart, just wanting what is best for our children — to find unconditional love and support and a welcome home.
We live in Worthington, Ohio, a suburb of Columbus. Worthington is very community-driven and attracts a lot of families and businesses, with much to offer in the way of resources, activities and events for all ages. All of the neighborhoods are family-friendly with great schools, parks and playgrounds, and opportunities to foster wonderful friendships. In this tight-knit community everyone looks out for each other, works to lift each other up and supports those in need.
We met through mutual friends and have been together for 17 years, married for nine. We share a love of animals, books, movies, the outdoors, road trips and new adventures. While we've both always been diligent in our respective careers, we know the end result is being able to enjoy life outside of work. We now enjoy adventures as a family, sometimes with our dogs and extended family members. Knowing we can do anything together makes us strong and defines us.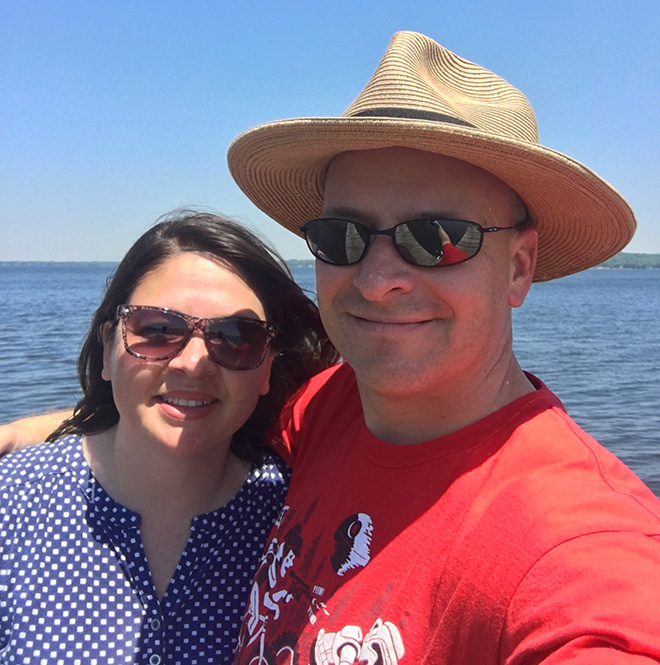 We found out late that having children wasn't going to be so easy. After going through IVF to have our daughter Ellie in 2012, we then struggled several more years to grow our family. While we dearly love our little family of three (plus two spoiled dogs), we can't help feeling that we're still missing an important piece. We want you to know that your child will have a very special place in our family, enjoying a lifetime of love, laughs, stability and encouragement.
Chris is a computer network engineer by day, superdad by night. He is a bicycle enthusiast who also enjoys hiking, camping, books, movies, and video games. He likes to spend as much time with his family as possible and be a hands-on parent, participating in as many activities as he can with his daughter. As Ellie has become her own little person, he's loved being able to share his favorite activities with her.
Tram (pronounced "Trom") did design and production work before becoming a stay-at-home mom after the birth of their daughter. She's worn many hats during the past 5 years of raising Ellie and is grateful for all of it. You will often find her reading, cooking, running, and volunteering on the side. She plans to start working again part-time but strictly from home, getting the benefit of both worlds. She loved being present for all the moments in Ellie's life — big and small — and she wants their second child to have the same opportunity.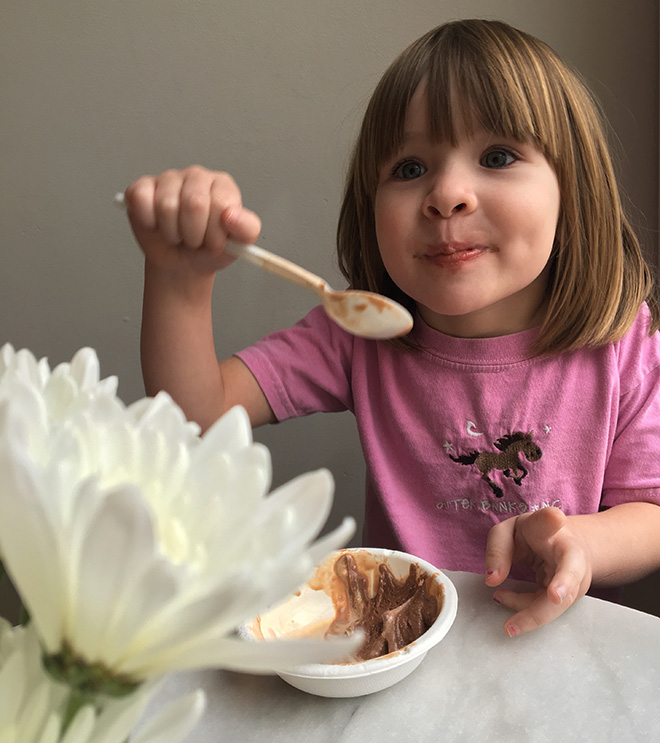 Our daughter Ellie is a wonderfully outgoing and active kindergartener. Aside from finally getting to ride the school bus, she's happiest when making new friends and showing off what she's learned in school. Ellie adores animals and would bring them all home if she could. She loves both princesses and superheroes equally and will trade knock-knock jokes all day long. She also loves to play, sing, dance, swim, do parkour, and ride her scooter while walking the dogs with the family. The one thing Ellie wants more than anything? To be a big sister!
Our extended village of grandparents, siblings, aunts and uncles are sprinkled around Ohio and in Florida. There are only two grandchildren on either side of our immediate family. As you can imagine, another grandchild would be a most welcome addition! While we don't get to see everyone often, we always know what is going on in each other's lives, no matter the distance. We are very appreciative of our families and where we came from. We want to ensure that your child knows not only our story, but yours.
Family is all about love, and we look forward to adding to ours. We can't wait to meet you and yours.
~ Chris and Tram
For more information about our family, please contact Adoption Link at 1-800-643-3356.