You are here: Our Waiting Adoptive Families > Meet Joel & Morgan T.
Meet Joel & Morgan T.
Hello!
We're Joel and Morgan and we're from Gahanna, Ohio! We are so thankful you're taking the time to read about us.
We met at a summer camp in 2012 and dated for a little over a year before marrying in September 2013. Our daughter Cooper soon followed. She is a sweet, fun, smart little girl who loves to play and be with her friends. Not long after she was born, we moved to Columbus, Ohio, and Joel became Lead Pastor at a church in Gahanna called Three Creeks Church. Next, we had our son Judah! He is a funny and happy little boy, and he loves playing with his sister and our dog Bear.
We have loved being parents, and we have more love to give. Even before having our first child, we felt God calling us to grow our family through adoption, and we know now is the time!
More about Joel (by Morgan): My husband has an infectious personality and people can't help wanting to be around him (especially me). From day one, he made me feel valued and loved, and continues to do so to this day. He is fun and adventurous, driven and passionate, and kind and intentional. My love for him continues to grow, as well as my respect for him and how he leads our family.
Joel is the BEST dad to Cooper and Judah. He loves to be active with them, teaching them new things, and helping them to experience the best that our world has to offer. While Joel leads and cares for many people as a pastor, he cares the most for our family.
More about Morgan (by Joel): Not very many people get to marry the best person they've ever met. I feel like the luckiest guy in the world. Everyone who knows Morgan respects and admires her for her kindness and her character.
She loves to read, run, write, and be with our kids. She is an outstanding mother and I'm so thankful she gets to stay at home with our kids. Many people comment on how well-behaved and kind our children are, and I know much of that can be traced back to their Mom. She truly is a remarkable person with Godly character and a servant heart. I can't imagine my life without her.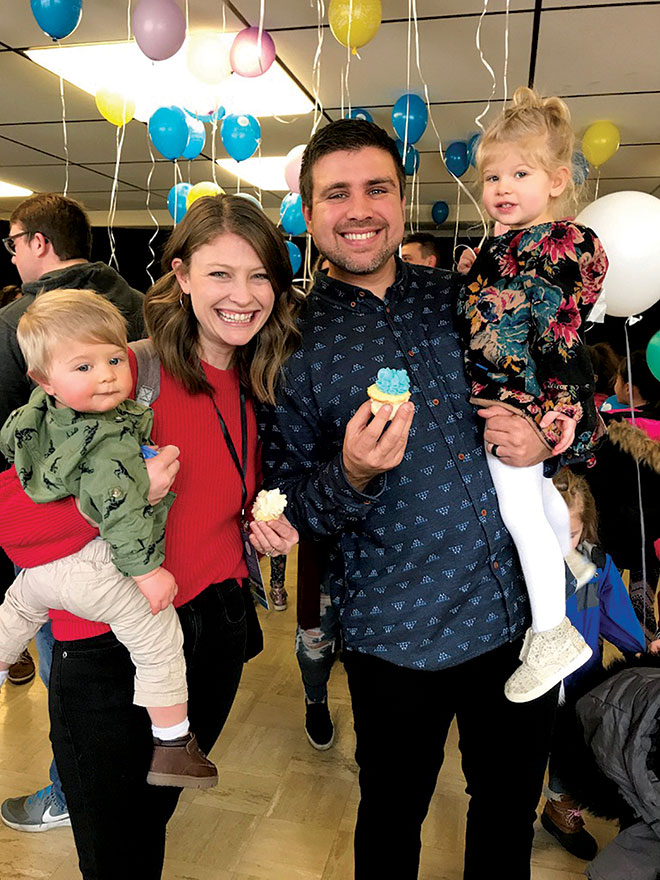 A Sunday at our church
Our Community: We live in Gahanna and we love it! We are both very connected in our community. Joel regularly interacts with city and school officials and through our church, and loves to find ways to serve people in our city. Morgan is in a local "Gahanna Moms" group, regularly goes to local events at parks and libraries, and loves going on walks through our neighborhood. We live close to both of our extended families, and they love our kids. We also have many close friends and enjoy having them over to our home often.
Gahanna has great schools and great community support. We are blessed to have landed in such a great place to raise our family. Columbus is only minutes away. We love going to the zoo, local museums, Columbus parks, and hiking in surrounding towns. When the weather is nice, you'll always find our family outside playing!
One of the most impactful parts of our lives is our connection to our local church. Our church family is welcoming and kind to all people, and this community of people has blessed our family in countless ways. Both of us serve at our church regularly, and our kids love being there too!
A Note to Our Child: The Bible says that children are a gift from God and they are like "arrows in our quiver." We haven't met you yet, child, but we love you. You are a gift from God to us. We see our role in your life as the ones who are committed to raising you up, and "shooting you out like an arrow" into this world. We want to be steady "archers" – parents you can count on for all the days of your life – and we want to watch you fly. We can't wait to have a front row seat to watch you grow into who God made you to be and have a life-changing impact in this world. We don't even know you yet, but God does, and He has a wonderful plan for your life! We can't wait to be a part of it!
Thank you for taking the time to get to know us a little bit. We would be so honored for the chance to meet you and get to know you, too. Even though we haven't met you yet, we want you to know we are praying for you and your child.
Joel, Morgan, Cooper and Judah T.
For more information about our family, please contact Adoption Link at 1-800-643-3356.