Meet Kris & Mike W.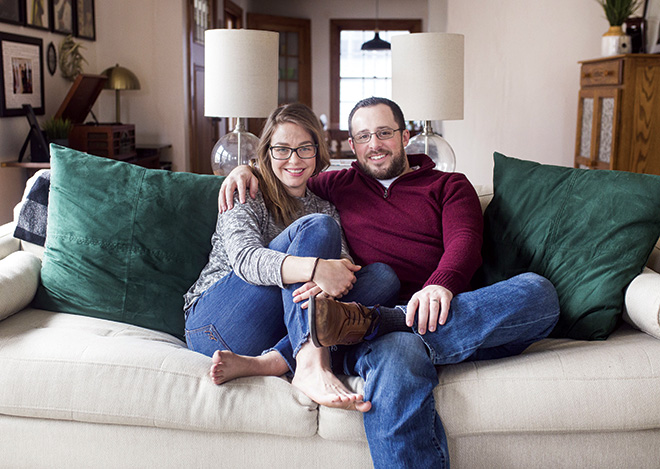 Dear Birthparent,
We want to tell you so much about who we are, but above all else, we understand you need to know your child will be safe and taken care of. So why don't we start there?
If we are given the responsibility, your child will immediately be surrounded by an extended community of support, affection and guidance. Two sets of grandparents who adore their grandchildren. Aunts, uncles and cousins who are our best friends wrapped in a family bond. And of course, a mother and father who will adore, develop and nurture their growth by providing the perfect balance of support and direction.
We live in Old Milford, a small town about 20 minutes from downtown Cincinnati. The neighborhood gives the perfect balance of quiet, family-friendly streets and the culture that a city can provide. Our home is comfortable, safe and full of laughter. We thrive off achieving goals, having new experiences and supporting one another as we grow. The opportunity to parent will give us a chance to share and pass those traits down to your child. We believe everyone is unique and has their specific strengths. It will be our honor to learn of those gifts and encourage them as they progress.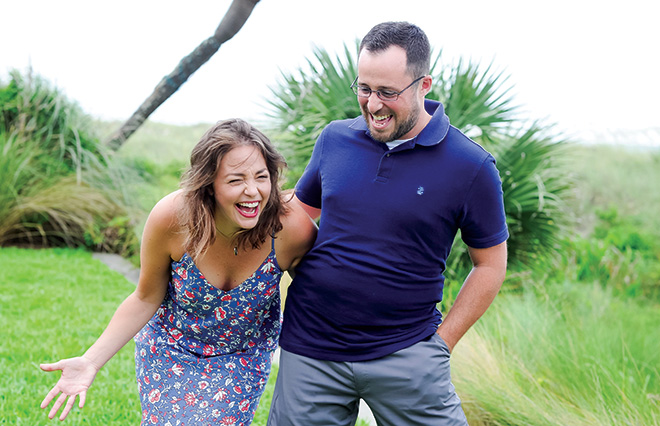 No one can make Kris laugh like Mike.
The Two of Us
We met 11 years ago while living in Chicago. Our similarities with differences sprinkled throughout made for the most exciting and true relationship. We laughed our way through our twenties and were married in November of 2012. Our real likenesses and the backbone of our relationship comes from the morals and values we share; be kind, open-minded and optimistic to life.
Kristin, by Mike Kristin really is something special. As her husband, is there a bias in that statement? Sure. But it really is true. She has a personality people are drawn to — a mixture of confidence and poise with loyalty and sincerity. She started her own family photography business from nothing. Teaches four exercise classes a week. Kristin takes care of me, our home and is a loving parent to our 17-year-old cat. She loves streaming new shows on Netflix, trying new restaurants throughout the city and has a special eye for design.
Mike, by Kristin Ask anyone who knows Mike and they will all say how genuinely kind he is. Mike has the unique ability to make everyone around him feel at ease and free to be themselves. I have a tendency to be a little shy, so this trait is what initially drew me to Mike. His patience is another attribute that is important to note. He ALWAYS keeps an open mind and a positive outlook. I believe kindness and patience are the two most important qualities a parent can possess, so I feel certain that Mike will be an excellent father.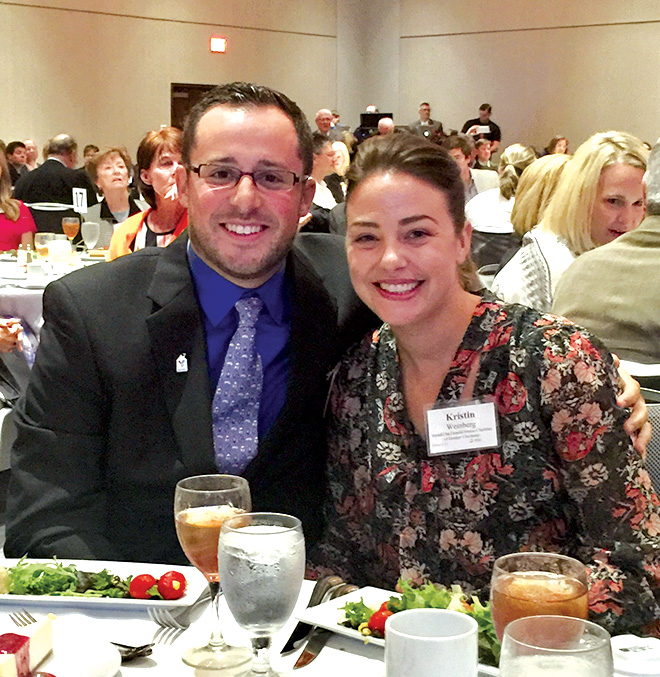 Mike was honored to receive an award from the Cincinnati business community.
Who We Are
What we like to do and what we look forward to doing as a family:
Put the top of our Jeep down and take joyrides during the spring and summer
Try new restaurants
Travel and explore new places
Hanging out poolside at Papa Perry's and Grandma Karyn's
Live entertainment… plays, concerts, stand-up comedy
Cozy in on the couch with popcorn and Netflix
Set goals and plan our future
We are major holiday people and love any excuse to celebrate!
We always make a big deal about each other's birthday and our anniversary.
Mike always makes Kristin a surf & turf Valentines Day Dinner.
Halloween is Kristin's favorite holiday. Our house is decorated from corner to corner and on Halloween night we make a bunch of yummy food and sit on our front porch and pass out candy to all the neighborhood kids! Then we go back inside, order a pizza and watch scary movies.
Mike is a huge movie buff and we consider Oscar Night a holiday in our home! We make popcorn and get movie theater candy and watch together every year.
We bake Christmas cookies, go to the Festival of Lights, and watch holiday movies throughout the whole month of December.
For more information about our family, please contact Adoption Link at 1-800-643-3356.