You are here: Our Waiting Adoptive Families > Meet Tony L. & Libby B.-L.
Meet Tony L. & Libby B.-L.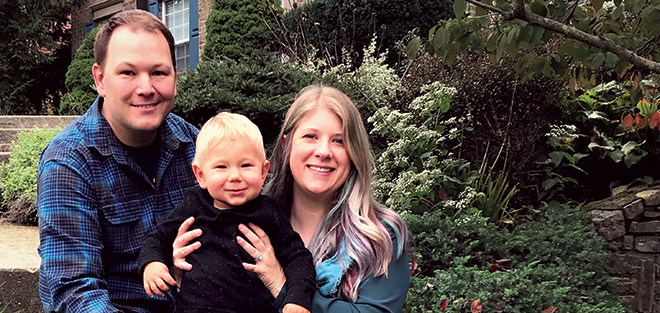 Dear Birth Family,
Thank you for reading our profile and considering us as a potential family for your child. The loving and selfless choice you are making inspires us to amplify your love through our family and is one we promise to honor. We are choosing open adoption because it is important for us to acknowledge and celebrate all parts of our family story.
We believe parents' role is to provide guidance, love, support, and opportunities for children so that they may discover who they are as individuals, how they connect to the world around them, and ultimately thrive independently.
Our desire to create a family through adoption is based in our belief that family is something we come together to purposely choose. Family is not defined by having the same features or DNA, but about showing up for one another, not out of obligation, but as a loving act. Because of this belief, we want to make adoption a part of our family journey.
How We Met. We met in 2008, began dating, and have spoken with each other every day since we met. Our relationship grew quickly as we found ourselves sharing more and more time together. We got engaged within three months, and married on June 5, 2010.
Honest communication and openness to trying new things is the foundation of our relationship. We support one another in attaining goals and dreams. Tony supported Libby through graduate school, professional growth opportunities, and making time to continue performing in theater. Libby supported Tony during becoming a police officer, coaching and playing lacrosse, and now as he pursues his talents as an artist.

Hiking Lands End trail in San Francisco
Meet Tony. Tony was a Sheriff Deputy for 13 years, and although he found fulfillment in his work, he has decided to pursue his true passion as an artist. He has an art studio in downtown Cincinnati and is regularly commissioned, shows at local galleries, and has had a piece hang in the Cincinnati Reds Hall of Fame! After years of planning, Tony is now working full time as an artist!
Meet Libby. Libby is a Product Manager at Cengage Learning, a college textbook publisher, where she leads a team in whose work helps college students accomplish their goals. Libby's work will allow her to be at home for three months following the placement of our child. After she returns to work full-time, Tony will continue to be at home with the family three days a week. On days when we both work, our children will be cared for in our home by their grandparents.
A Family Story. Our new family began when we adopted our friendly, lovable dogs, Sarge and Dutch. In 2017, our first child, Julius, was born. Becoming parents has been a challenging and wondrous experience. Julius is a curious, silly, and caring child. He loves swimming, cuddling with the dogs,, reading, trains, and playing outside.
Tony's parents are both retired, his father, Tom, a former Sheriff Deputy and his mother, Deb, a former worker's comp consultant. Tony's brother, Tommy, and his wife, Christy, live in Nevada and love to visit.
Libby's father, Joe, is a music and theater teacher and her mother, Amy, was a Montessori pre-school and Kindergarten teacher before retiring to help care for Julius. Libby's older sister, Laura, is also an artist, and her younger sister, Lindsey, is a Montessori teacher, Lindsey and her husband Greg are expecting their first child in spring 2019!

Julius has a great time riding his tricycle and playing outside.
We maintain supportive relationships with both family and friends. We are fortunate that our families live nearby and love spending time with each other. Many of our friends also have young children, and we enjoy not only getting together as families, but also leaning on each other as we navigate parenthood.
We hope that an ongoing relationship between you and our family brings love, peace, honesty, and support to all of us as people whose lives will forever be intertwined. We are excited to grow our family and are deeply grateful for the beautiful gift you are choosing for your child. We look forward to meeting and getting to know you.
With love,
Tony and Libby
For more information about our family, please contact Adoption Link at 1-800-643-3356.